The Drop Daddies were again honored to be a part of the Walk  to End Alzheimer's event at Heather Farm Park in Walnut Creek. This year's walk was on October 17, 2015.
The schedule was similar to last year's event, starting with a crazy-early set up before sunrise and music and activities until early afternoon.
We provided live music throughout the event, managed the stage during the ceremony and speeches, and coordinated with the MC, Renee Morgan of the Danville Town Council.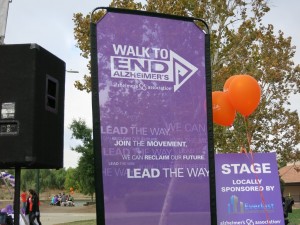 We played a set with the Twin Creeks Elementary Chorus (led by their teacher Terri Knight) – including John and Gary's daughters Emily and Maddy. They sang Lonely Boy, Surfin Safari, California Sun, Animal and finished with their favorite Radioactive.
This year's event had a bigger turnout than last year- over 2000 attendees– and a total of $350,000 was raised for Alzheimer's research.
Once again, Emily was our photographer, and this time she snapped a number of very artistic shots in addition to the band photos.