Purple was the color of the day! The Drop Daddies were honored to provide the entertainment at the Walk  to End Alzheimer's event at Heather Farm Park in Walnut Creek, on October 18, 2014.
Team Drop Daddies rocked the stage at 8:30, 10:30 and 11:30.  Our goal was to lift spirits and provide some good vibes  at this otherwise very serious and emotional event.   Our team also raised nearly $1,000!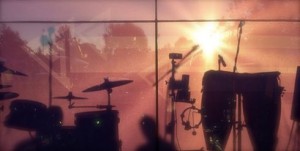 Along with many other volunteers, we were there early, setting up on the stage before sunrise under the beautiful moonlit sky.
We completed our sound check around 7am just as the sun was rising above the tree line in front of us.
In addition to our three performances, we managed the stage and produced all the audio for the event.  We coordinated with the MC (Paul Deanno, chief meteorologist at CBS), and the other speakers- including families and caregivers whose lives have been affected by the disease, and also a woman living with Alzheimer's whose words brought the crowd to tears.   The Promise Garden flower ceremony, accompanied by Latika's theme, was also particularly emotional.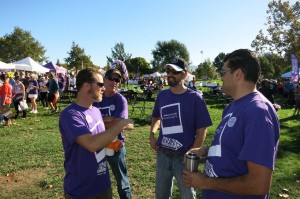 Gary stepped up as interim announcer while Paul Deanno was away- helping to coordinate the teams, volunteers and walkers.  Gary also managed the background music selections during the warm-ups, speeches, and team spirit competition, with an awesome natural talent for picking exactly the right song for each moment.
To achieve the best sound balance and most dramatic combination of music and speech, John remotely live-mixed the audio from Master Fader on his iPhone while walking around the audience.  Xeno was always attentive to raise and lower the microphone for the current speaker, and helped coordinate with Lacey and Patty- the event managers.  Ryan helped out those who needed a hand getting up and down the steps at the stage.   Awesome teamwork all around by Team Drop Daddies!
There were over 1,500 people in attendance, and it was quite a dramatic scene as the teams began their walks behind the stage, through the balloon arch accompanied by the Carondelet cheer team.  The walk around the lake took them past the San Ramon Valley High School marching band, as well as the Twin Creeks Chorus in which John's and Gary's daughters participated by singing Zum Zum, Don't Stop Believing, and Roar (led by their teacher Terri Knight).
Overall, the event raised in excess of $270,000 for Alzheimer's research.  We were honored to be a part of the day.
John's daughter Emily took most of these photos- she's a pro, at age 8!
Update 11/6/2014:  See more photos here.