Just after Halloween, the Drop Daddies played at a Halloween house party- the theme for the night was Dead Celebrities.  The Daddies were three Elvises, Bob Marley, a rockstar Jesus, And Abe Lincoln!  The Dream Team!
And all around us, a motley, gruesome crowd- a beheaded Marie Antoinette, Cleaopatra, Jimi Hendrix, Janis Joplin, Kurt Cobain, a couple Amy Winehouses, Rosie the Riveter, Whitney in her bathtub, Frida Kahlo Chris Farley and Patrick Swayze doing the Chippendale's thing, and another Chris Farley as Matt Foley down by the river, and more and more.  Crazy funny!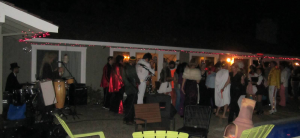 We were set up in a corner of the patio, next to a fire pit and a pool.  We were playing nearly in the dark which led to some occasionally unique guitar work from John.  To-do- practice playing in dark!
We played Bob Marley's Jammin' with John in dreadlocks and tie-died ganja t-shirt, and Elvis' Suspicious Minds, with Gary in his 70's sequined white Elvis suit – "Thankyooverrimuch!"  And of course Gary had one more chance to bust out his Transylvanian accent, singing Monster Mash.
Half way through our first set, we had our our first (and maybe last?) encounter with the fuzz.  Things were just starting to get rolling when the cops arrived to shut us down. O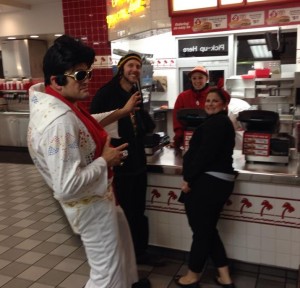 ur hosts made some phone calls and after some quick negotiations, we got the go-ahead to play until 10 PM.  We turned it down a notch, but after a short while, it was cranked back up and we finished out the set with everyone rocking the block.
It was a rockin set, and a hilarious, good time.  Amazingly, not a single dead celebrity fell in the pool.
And to top off the excesses of the evening,  we made a 1:30am raid, in full costume, to In-n-Out for burgers and fries- much to the bemusement of the teen-aged employees.