On February 4, 2017, we played the final Saturday-night party at the Outpost in San Ramon.  We were there to celebrate over 4 years together as the Drop Daddies, and to honor the end of this memorable watering hole. On Tuesday, after 40 years in business, the Outpost will be closing its doors forever, soon to be demolished to make way for apartments.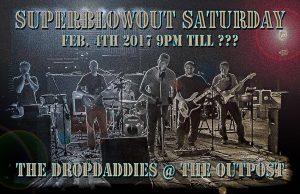 Well, we shut it down in style! Several special guests joined us. San Ramon singer-songwriter Steve Kritzer opened with a great set of acoustic sing-alongs. Then, the Breedloves rocked a short double-acoustic set, with Jay and Barbara ending with a kick-ass acoustic Whole Lotta Love. And lastly, our buddy DJ Mike Givvin spun some tunes to close out the evening.
We played from around 9 until well after midnight. We only took a single break, which made for two epically long sets.  Jeff's brother Dan joined us on drums for Mony Mony and our pal Dennis came up to sing Living After Midnight – so Ian and Gary could take a short break in the second set.
Update Feb 26: We captured video from several cameras and cell phones at the gig, and put together this video of Beverly Hills. It really captures the energy and good vibes of a great group of friends, rockin the night away: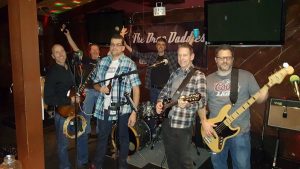 Here's another video from Shook Me All Night Long