Our first gig as the Drop Daddies was at Norm's Bar and Grill in Danville on March 16, 2013.  We were still short one Daddy-  Xeno had long since booked a skiing trip and was unable to join us.   So we shelved all of our songs featuring the X Man, and came up with an additional hour or so of music.  So many good tunes, so little time!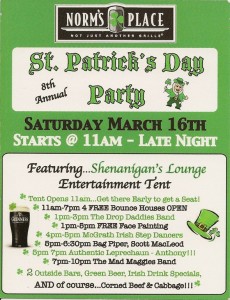 At Norm's, we were expecting to be crammed into a tiny corner of the bar, but instead there was a huge stage platform set up in the back parking lot.   Mixed blessing- it was a gloriously sunny and hot March afternoon, and the stage was out under the sun.  The guitars were floating out of tune in the heat.  Fingers were slippery with sweat.  John was cutting up beer cups trying to make sunshields for the guitar pedals so he could see the on/off lights (no luck).
Other highlights- Gary crooning Happy Birthday to our friend Laura (happy 30th), inviting up our friend Yolanda to sing a Taylor Swift tune (Yo rocked), and managing to hit all the words in REM's "end of the world" to great cheers from the crowd.
There were 100 or so revelers out for the event wearing green beads, drinking green beer, eating corned beef and cabbage, and a bunch of kids enjoying the bouncy houses and face painting.
We were cranked up loud, the drinks were flowing, the kids were alright- it was a beautiful day in suburbia, and a good time was had by all

Our set list:
Set 1:
The Black Keys – Lonely Boy
John Cougar Mellencamp – Pink Houses
Weezer – Island in the Sun
Green Day – When I Come Around
Red Hot Chili Peppers – Under The Bridge
311 – Amber
The Monkees – Pleasant Valley Sunday
Oasis – Wonderwall
REM – It's the end of the world as we know it
OAR – Shattered (Turn the Car Around)
Modern English – Melt With You
Set 2:
Ben Kweller – Penny On The Train Track
Neon Trees – Animal
Incubus – Drive
Eve 6 – Inside Out
James Gang – Funk #49
Calvin Harris – Feel So Close
Foo Fighters – Learn To Fly
Smashing Pumpkins – 1979
Weezer – Say It Ain't So
Taylor Swift – We Are Never Ever Getting Back Together
Jimmy Eat World – The Middle