Some family friends of Ryan invited the Drop Daddies to play at a a 70th birthday party for their father Mike, at the San Ramon Community Center on November 26, 2013.  
A few days before the party, the family asked if we knew  the Righteous Brothers' Unchained Melody, as this was Mike and his wife's favorite song.  We didn't know it yet but thought it was a great idea- so we quickly worked out an arrangement.  We also decided to throw in another slow number that the seniors might enjoy- Ritchie Valens' Donna.   We only had a chance to rehearse these once, the day before the party. But they turned out to be one of the highlights of the evening.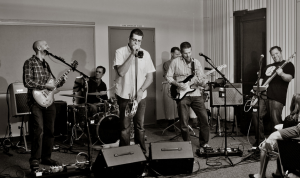 We played Unchained Melody mid-way through the first set, after singing happy birthday.  Mike and his wife came out on the dance floor alone, almost like a first dance at a wedding.  Gary really nailed that insanely challenging vocal part- and half way through the song, the dance floor filled up with other slow-dancing couples.  Very nice moment.
Another highlight- a boy came up and asked if we knew any hip-hop.  "Sorry, no…", but a little later he came up and asked if we knew Kryptonite.   "Yes!!"  And we kicked it out for him, right then and there.  This one surprisingly filled the dance floor too. Thanks to the little guy for the request 🙂
Other memorable moments:  Logan break dancing.  Sophie coming up to the stage and strumming the guitar with John during Longview.   Our kids supporting us by sitting in front and clapping, and singing along.  Kai and Logan helping carry equipment in.   Emily dancing with Chunling, and requesting we turn it down (we can't turn it down, we're rockin out here!)   Mary, Maddy and Sophie helping coil up cables at the end of the evening.
Photographer Julia Rodriguez was there to capture the birthday party, and fortunately turned her lens towards the band for these awesome shots.  Thanks Julia!