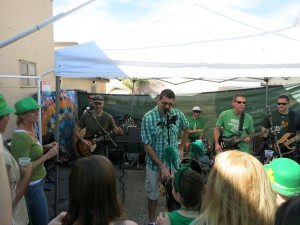 Norm's is always fun for us because it is where we played our first public gig. This was our third time playing their annual St. Patricks Day Event- March 14, 2015.
As with the last couple years, it was a glorious spring-came-early hot sunny day.
It was a bit different this year, because they are currently remodeling. So no stage, and no bouncy houses for the kids. However, the tight quarters made for a really fun, packed house.
New tunes for the day: Free All Right Now, Birthday, and Dancing With Myself.
Another highlight, calling up Laura to sing The Middle with us- her favorite song, and her birthday. Watch below: