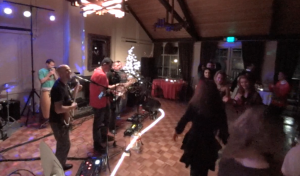 We were invited to play a Christmas Vacation themed farewell party, at the Sycamore Clubhouse on December 19.
What an amazing group of friends- coming together to celebrate one of their neighbors moving out of the area.  It was an honor, and a blast, to be part of the celebration !
New for the evening- Grandma Got Run Over By A Reindeer, with all of us wearing reindeer antlers.   And it was our first time playing Wicked Game- one of our new favorites.