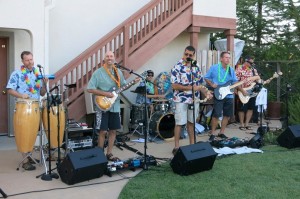 At the Twin Creeks 2014 School Auction, the Drop Daddies were auctioned off as part of an end-of-summer Luau party – August 23.  It was to be a traditional island feast including Kalua pig, Hula dancers, a fire dancer after sunset, and party by the pool.
It was a laid back affair- with all the Daddies wearing leis, and mai tais all around.  We learned Surfin Safari the night before just for the occasion- what a fun tune! 
As soon as we finished our last song, the Hula Dancers came out to shimmy, and then a little later in the evening- fire dancer!    At some point, nearly all of us ended up in the pool, or the spa, or both… 
Thanks to the King family for another great party!