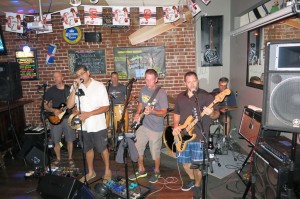 It turns out that a hot summer Saturday night at Meenar's is a totally rockin party compared to a weeknight gig.  We played from 9:30 til after 1am, and the place was packed throughout.
The third set, ending with Longview, Sedated, All the Small Things, My Own Worst Enemy, The Middle, Mony Mony and Shook Me All Night Long was our most thunderously rockin ever.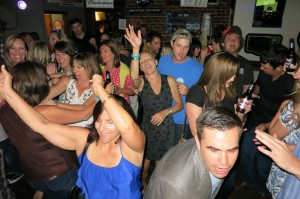 This was the most entertainingly engaged crowd ever- very up close and personal.  They wouldn't let us stop playing- so around 1am, we broke out a few more down-tempo songs-  Shattered – a surprising highlight.  And the epic Under The Bridge with everyone in the room singing along- one of the high points of our entire Drop Daddies career.  And of course we finished out with Sweet Caroline- bah bah bah!