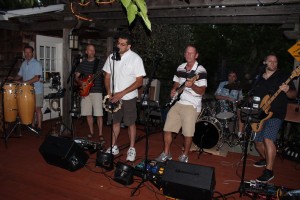 Cosmos, Canapés, Cupcakes and Cabs.  Yes, it's June again, and time for the 4th annual Cosmos party.   We played at last year's Four C's party, and once again the Drop Daddies were auctioned off for this party at the Twin Creeks 2014 School Auction.   It was a perfect, warm June evening, with the sun gradually going down behind the mulberry tree during our set.
This was our first gig with the new PA, and it was, without a doubt, the best we've ever sounded.   We also used a multi-camera setup for the first time to record some good video- links below.
We started off with Radioactive to warm up.  Then launched straight into a couple of our new songs- Brown Eyed Girl, and Jenny/867-5309 which were a blast, and got everyone up dancing.   In the 30 songs that followed, we played a number of other new songs for the first time, including Stacy's Mom, White Wedding, and I Wanna Be Sedated.  Good vibes and high-energy dancing flowed for the whole evening.
Some highlights- the ladies singing "gimme gimme" in Beverly Hills.  Jeff busting out some surprising new wah-wah sounds in Magic Carpet Ride.  John stepping out with the ladies in the middle of You Shook Me All Night Long.   Finally being able to hear the harmonica with the new PA.   Ryan's awesomely animated performance.  John asking Ian "all set?"- then ignoring the "not yet" and launching right into Johnny B. Goode.  Gary rockin the tambourine, and the iphone video, while nailing his vocal parts.  The cool spinning lights (left over from disco night at the school) scattering colors across the deck.
As usual, we closed it out with Sweet Caroline, with everyone singing the "sweeeet caroline- bah bah bah!!"   What an awesome evening!