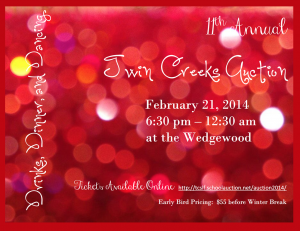 The Drop Daddies were invited to play at the Twin Creeks Elementary School auction, on February 21, 2014.  Like last year, the event was held at the Wedgewood in San Ramon and was to benefit the Twin Creeks Learning Fund.
Before dinner, we played a single song, to get people interested in entering the banquet room.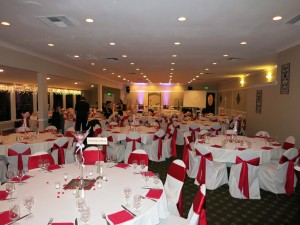 It was our first time playing Radioactive, and it was a highlight for us.  It's a slow tune, but the energy is high, and it's our first tune with all of us singing 3-part vocal harmonies.
In addition to steak dinners, Tahoe weekends, fabulous cakes, wine, layered shots, and coveted parking spaces, the Drop Daddies were auctioned off as part of two separate parties for later in the year.   In the end, thousands of dollars were raised to help fund the school's education programs.
The evening's dancing was supposed to start around 9pm, but the live auction ran past 10pm.  It was a late start, but after the open bar, and the crazy bidding of the auction, people were ready to cut loose and dance.   We kicked it off with Interstate Love Song, our first time playing it live, which was a blast.  Some of the highlights that really got people moving were Melt With You, Jessie's Girl, Just What I Needed, The Middle, Johnny B. Goode, Mony Mony, and You Shook Me All Night Long.