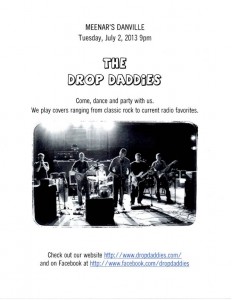 It was a beautiful, summer evening in July.  A perfect night for the Drop Daddies' first bar gig.
The Meenar music club has been around for something like 25 years- just a few doors down from the historic Elliot's bar in Danville.
We were crammed into a corner between the bar and a pool table, surrounded by our friends and family, and whoever else happened to wander in.  It got so crowded, they had to move the pool table outside- pretty happenin for a Tuesday night!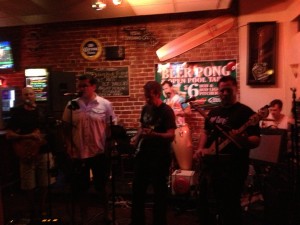 We played about 30 songs in two sets, starting around 9.  We were still playing at 11:30, when we ran out of songs.  The folks were demanding more, so we played Lonely Boy again- such a great song.
Some fun highlights:
Jeff's mom groovin' to Ritchie Valens Come On Let's Go.
Our buddy Chuck Besocke came up to join us on bass for Penny On The Train Track.
We played a "decades of rock" segment in the middle:  Come On Let's Go (50's), Pleasant Valley Sunday (60's), Long Train Runnin (70's), It's the End of the World (80's), My Own Worst Enemy (90's).
We closed out the second set with some of our favorite rockin party tunes – Santa Monica, Magic Carpet Ride, School's Out, Animal, The Middle, What I Like About You, Mony Mony, You Shook Me All Night Long, and Lonely Boy.
And one of these days, we're just gonna have to learn (at least some of) Free Bird, so we can throw that out there  when people yell out for it 🙂