Monthly Archives:
June 2013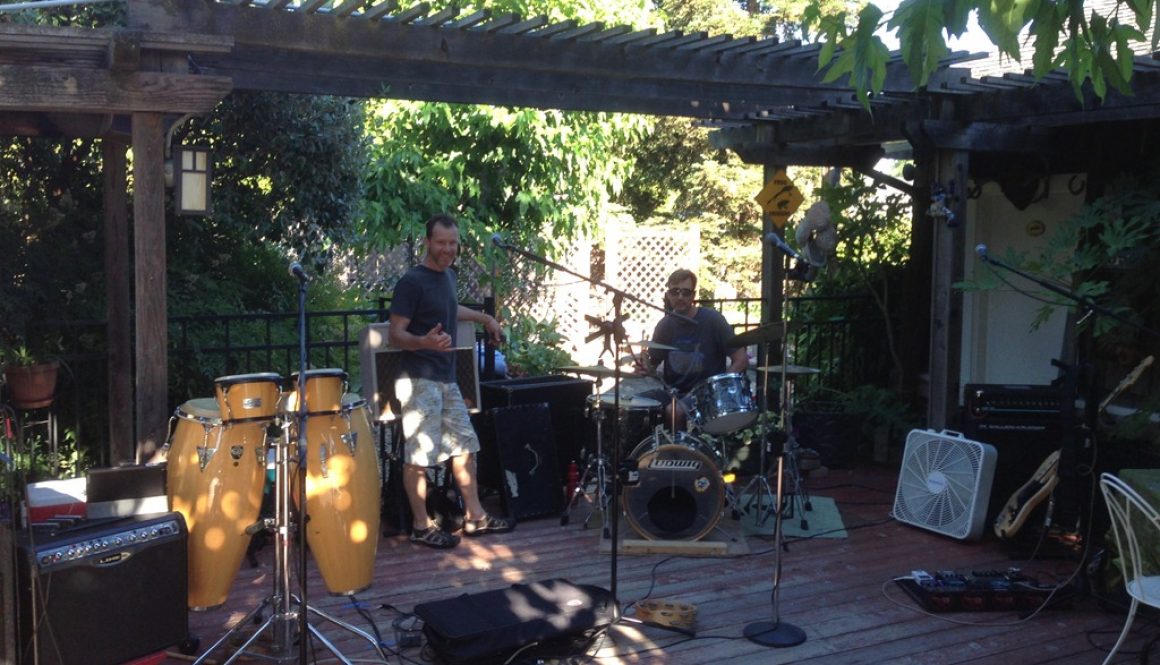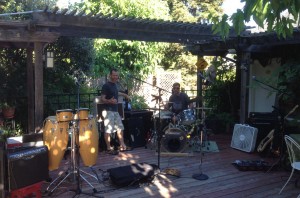 Back at the Twin Creeks Auction, The Drop Daddies were auctioned off as part of a "Four C's" party package for the ladies.    That's Four C's, as in Cosmos, Cupcakes, Canapés, and Cabs.    Paaaarty!
It was a balmy June evening and we were set up on a beautiful backyard deck under some big mulberry trees and a trellis.
Jeff couldn't join us that night as he was recovering from shoulder surgery – too bad because we had just added Jessie's Girl to our setlist on his suggestion, and he couldn't play it with us. 
We started with a short first set of mellower tunes, but the party didn't really take off until we played Lonely Boy, when LauraR  busted out her awesome dance moves and brought the whole party with her.   Thanks Laura!
Then it was a frenzy of dancing and singing that didn't stop until we had played nearly every song we knew.   The ladies were getting down, belting out the lyrics,  and playing air guitar.  Good times!
Some rockin highlights from the 30 or so songs we played were Lonely Boy, My Own Worst Enemy, The Middle, Jessie's Girl (which we dedicated to Jeff), Magic Carpet Ride,  What I Like About You, and our last song- Melt With You when LauraP came up to sing with us.
After our last set, Gary put on his iPhone playlist to keep the party going-  we were taking notes as the ladies went wild for You Shook Me All Night Long and Mony Mony.  Those are definitely going on the list to play for our next gig!   They also seriously got down to LMFAO,  I'm Sexy And I Know It, but somehow that seems not the best choice for the Daddies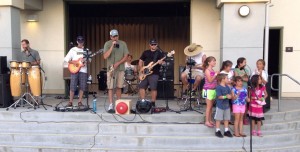 On May 31, the Drop Daddies played an outdoor concert at the Twin Creeks Elementary School end-of-year carnival.   It was a scorchin hot pre-summer day. Our kids had decorated the stage with signs like "The Drop Daddies Are Awesome", and "The Drop Daddies Will Blow Your Mind".  And, of course, there were cake walks, hula hoop contests, and cotton candy everywhere.
This show was special for us, because it was our original vision realized.   At the beginning of the school year, Xeno and John had this crazy idea to bring together some parents with their kids on stage to perform some live rock music.  Over the year, we rounded up all the Daddies, got our act together, learned a bunch of tunes, and finally now, brought a group of kids up on stage with us to sing and play.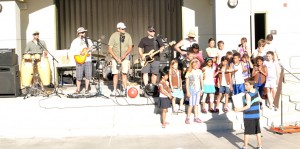 The first group included members of the school Glee club along with our own kids, singing The Monkees' Pleasant Valley Sunday.  This is not an easy song- lots of words, complex harmonies, and key changes.  The kids practiced just a few times over school lunchbreak under the leadership of glee club leader Jenean Watrous; and we never had a chance to play it together with the band until we stepped on stage.  The kids did great!
Then, the Daddies' kids (Reese, Mary, Sophie, Jess, Maddy and Emily) sang a few more songs with us: